Now USD 199 (valued at USD 237)
Includes my painting classes:
Pattern Playing
Fantasy Flowers
Mixed Media Angels
INSTANT ACCESS CLASSES • SELF-PACE • LIFETIME ACCESS
Let's play with patterns!
In this 3+ hour video class I welcome you into the wonderful world of patterns. Step by step, I'll be guiding you through the process; from gathering inspiration, choosing a colour palette, designing your own patterns, applying them and create an amazing abstract piece of art.
Creating your own pattern design is the perfect way to completely lose yourself in the process. You don't have to think too much; it can even feel like a meditation. Warning: it's very addictive! 😉
Instant Access Class – Self-Paced – Lifetime Access
Regular Price: USD 79, Bundle price USD 66,33
Create flowers from your imagination!
We are going to create a flower scene from our imagination. In the video lessons (3 hours in total) I will show you various mixed media techniques that you can use right away. From preparing your canvas and creating a layered background, to choosing your colours and a composition. And of course how you build up the fantasy flowers step by step with for example paper, markers and textiles.
You can participate in this course if you have been painting for a while, but also if you have no experience at all. The course encourages you to play and, most of all: to enjoy the process. A perfect result is a nice bonus! Do you also want to lose yourself in a dreamy flower field? Then join me!
Instant Access Class – Self-Paced – Lifetime Access
Regular Price: USD 79, Bundle price USD 66,33
The power of angels
This course is all about angels, or fairies or elves if you prefer to call them that.
What they have in common is that they are magical beings who bring us a special message or they support us.

 

And we need that more today than ever before!
To see all information of each individual course, please visit their landing pages by clicking on the menu item Painting Classes.
Instant Access Class – Self-Paced – Lifetime Access
Regular Price: USD 79, Bundle price USD 66,33
Satisfied School Members!
The ability to watch the course at your own pace, when you want to, as often as you wish. You can watch it from your desktop, but also from your tablet or your phone in a browser or with a special iOS app.
A workbook to download and / or print, with exercises to get you started, background information and a detailed explanation of all materials.
An invitation to join our private Facebook community Luz Artworks, where you meet with fellow artists. This is a great source of inspiration and a chance to share your work and gain valuable feedback.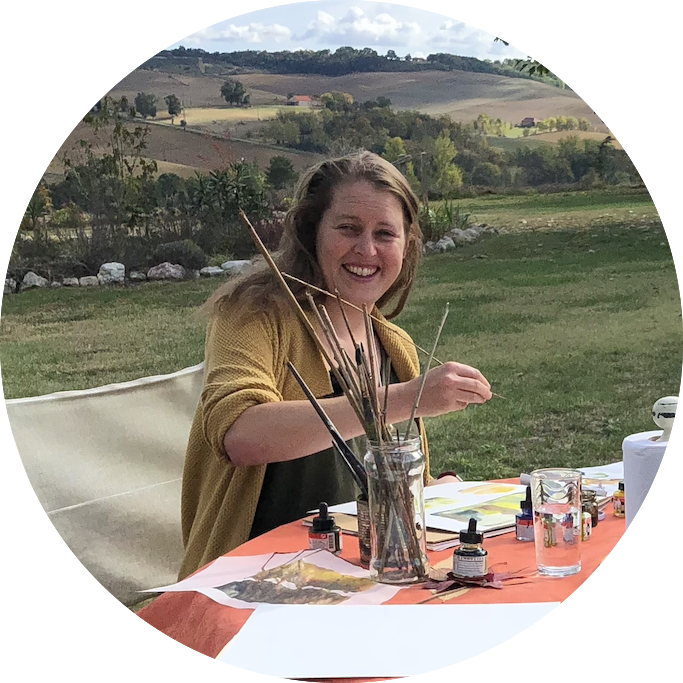 Marloes Bloedjes alias Luz is an artist living in The Netherlands, creating colourful, abstract paintings and mixed media artworks. She enjoys long walks in nature. Back home she mixes her impressions with her rich inner world. When these two come together, magical creations are born. In addition to her work as an artist, she teaches adults and children in her studio since 2010.
Since 2018 Luz is developing online classes, together with her partner, photo/videographer Anthony Verolme.
"In my art I feel a deep connection with myself and my inner world. If there were no art, there were no me."